About our logo
This logo represents eight stars circled around "P" of a capital letter of a word "pharmacist."
The circle shows team medical care and the cooperation among pharmacists and other medical professionals.
The eight colors mean a concept of"The seven-star pharmacist" and one more qualification of a pharmacist.
日本語

English

What is seven-star pharmacist?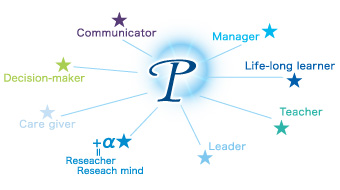 "The seven-star pharmacist" has been introduced as ideal qualification of pharmacists by WHO and adopted by FIP since 2000.
The initial seven roles are "Care giver," "Decision-maker," "Communicator," "Manager," "Life-long learner," "Teacher," and "Leader."
Now another role as "Researcher" was added to make "the eight-star pharmacist."